Rockin' Resources:
I am linking up with Kelley at
Teacher Idea Factory
to share the tehnology resources I intend to use this year.
So I really want to be one of these teachers that uses really awesome technology resources in my classroom. In the past, my access to technology resources were very limited. This year I am going to be teaching a 4/5 split class at a private school where the students are required to have a laptop. I am excited about this and want to take advantage of it. So I have seen lots of great websites recommended by teacher bloggers. I decided to share some of these Rockin' Technology Resources that I hope to use this year (but have not used yet). Many of you have probably read posts about these sites, but since there are new teacher bloggers and blogstalkers all the time I figured it couldn't hurt to mention them.
1)
Classroom Organizer
by Book Source
This is a free website where you can enter all the books in your classroom library as well as your students and then use this site to manage the checkout and checkin process of your classroom library. I think this seems like an amazing resource and can't wait to use it. I just dread entering my boxes and boxes of books. Luckily, they also have an app for the iPhone where you can scan the ISBN numbers of the books with your phone. I believe this is supposed to make it easier. I downloaded the app and registered for the site today, so once I get started I will let you know how it goes.
2)
Kidblog
This site allows you to create a teacher blog and then your students can have their own little blogs under you. This seems like it would so much fun for kids. There also is
Edublog
, but it seemed geared at older students. I checked out both and intend to use Kidblog.
3)
Class Dojo
This is a free online classroom behavior management system. You choose little avatars to represent the students and then students can earn positive and negative points. You can choose from critter or monster avatars, but you also can upload your own avatar images. I am excited about this because I believe it will work well with my video game behavior management idea I previously used. I think I want t0 have the students draw avatars, scan them in, and upload the images. The other thing I think could be difficult is that I am not always at my computer. I was thinking about making either a form I could use to mark points and then record later or even a behavior form the students could use that holds all the same categories and enter it into the computer as I have time.
4)
Weebly
This is a site you can use to create a free education website or blog. I would like to use it to create a classroom website to share information with parents and students. I will keep kidblog mainly to use during school with my students.
5)
Edmodo
I have only looked at this site a bit, but it is basically like a Facebook for education. It seems like it would be fun to use, so I want to look into it more.
6)
Spelling City
I have used Spelling City in the past and intend to use it again.
7)
Read Write Think
Read Write Think has some awesome interactive pre-writing activities I intend to use.
8)
eThemes
I will be teaching thematically this year, so this seems like a great online resource when searching for resources for specific themes.
The resources I know for sure I intend to use are Kidblog, Spelling City, and Classroom Organizer. The others I hope to use for sure. As I explore these websites and get into using them, I will let you know how it goes. What technology resources do you love? I would love to find a great online source for Greek and Latin Roots. Any suggestions?
On a fun note:
I am having a Thirty-One online party, just in time for back to school. I have seen everyone talking about their Utility totes, and I decided I want one, too. This is the tote I have seen blogged about most often. People put a hanging file organizer inside and carry it back and forth from school. I'm not sure if I want this bag or something else or several, yet.
Anyone who has been around me for more than five minutes knows I love bags, totes, backpacks, purses! I figured why not host an online party? Well, hopefully some of you have been wanting a bag, too, so help me out by going to the link below to shop. Click on "My Parties." Click on the link that says "Shop Now" next to April Walker. Michelle over at Making it as a Middle School Teacher is helping me out with the party. I am having a giveaway where the winner will win $31 credit to buy more Thirty One bags. I used the point values similar to Lorraine from 4th Grade Froggies from when she had a somewhat similar giveaway. For one item purchased you earn five points, for two items you earn ten points, and for three items you earn twenty five points. So help me out by shopping, and then I can help you get more bags.
(Don't forget to enter my fabulous
300 Follower Giveaway
as well.)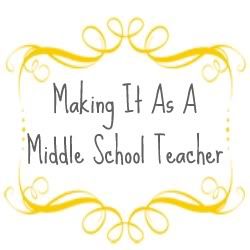 http://www.mythirtyone.com/209436/
a Rafflecopter giveaway