This week I am linking up with Jivey's
Workshop Wednesday
for Word Work.
This year I really wanted to spend more time on Greek and Latin Roots. I also really wanted to do a weekly spelling list, but I wanted it to be challenging and really strengthen their understanding of words. I decided I wanted to do a weekly spelling list that consisted of Greek and Latin Roots.
This summer I purchased the
Reading Olympians
program. I loved the idea of the kids getting to earn different titles of Greek Gods as they mastered different sets of roots. I hoped the program would come with word lists to accompany each root, but it did not. It was my intention to just pick 3-4 words for each root and create weekly spelling lists to match up with the
Reading Olympians
program. Of course I never had as much time as I planned, so I decided to search TpT for a Spelling program based on Greek and Latin Roots. Reading Olympians really seems like a great program as a separate vocabulary program, but I did not feel I had time in my week for separate spelling and word work times so I wanted to combine them.
I was so excited to find One Extra Degree's
Word Warriors
program. We are on week 3, and it is working great! We start out the beginning of the week talking about each root and it's meaning. My students then match the different words from the list to each root. We talk about the meanings of all the words on the list. I usually have them do some sort of writing assignment with the words. I also have a Spelling City account, so I have been putting the lists into Spelling City. This way my students can play games with the words to practice them. Here is an example of our list from last week:
We used a flapbook on Monday to illustrate all the meanings of the words, write sentences, and group the words by root.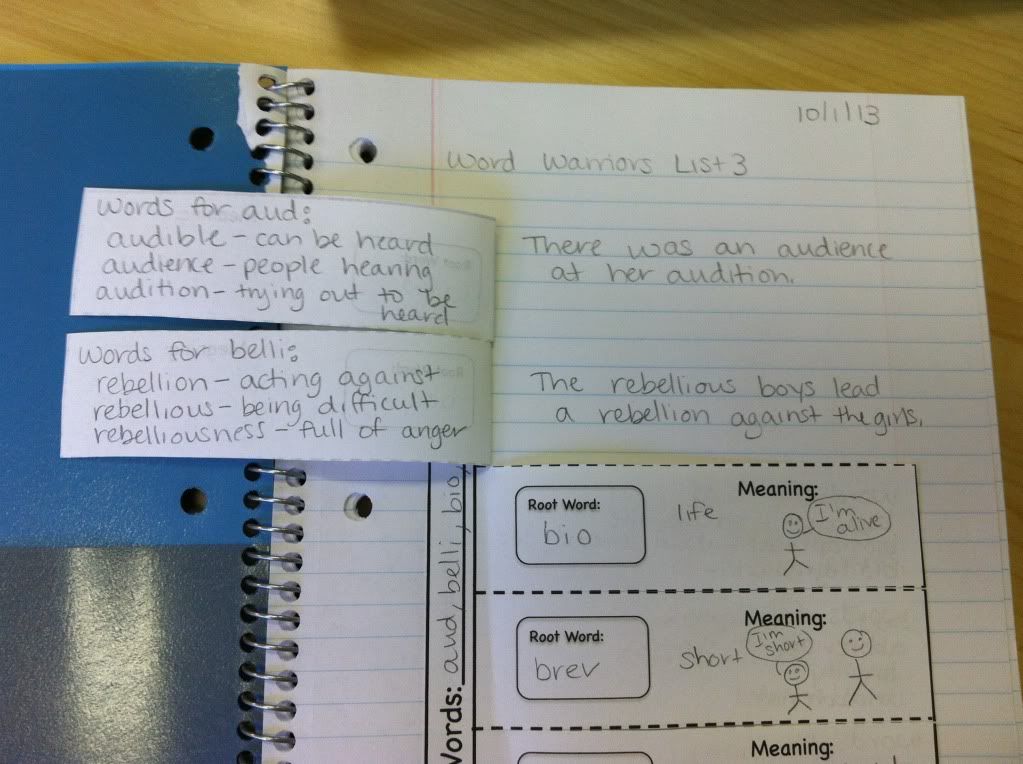 You can get a copy of the
Root Word Study Tabs
flapbook here.