The first week of school has been crazy! I have wanted to blog every day and my evenings have been filled to the brim. The first day of school we handed out supplies and labeled everything. We always do some orientation activities as an entire school where we talk about the vision of the school. We did some writing activities about summer. I didn't have them just write about their summer. They had to use the topic of summer as inspiration for their writing.
Early in the day, we talked about information we might share when introducing themselves. I asked them to think what they would share if they couldn't give their name. I gave them each a sheet of paper. They had to write or illustrate information about themselves that did not include their name. It made them think! You can see my poster below.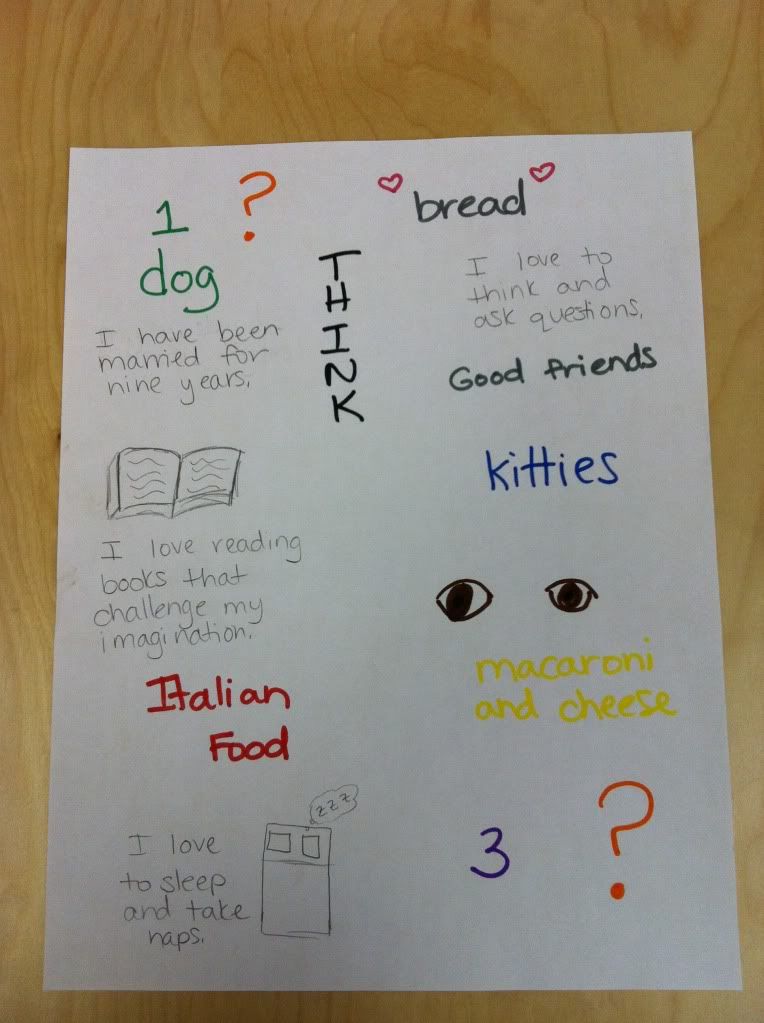 We also got in groups and did an activity to think about rules. We put them in groups and gave each group some marbles. They had to create a game to play with the marbles and then write out directions to play the game. Then the groups rotated in a circular fashion to play someone else's game following the rules. Later in the day, we did the same activity but gave them a dice with the marbles. They once again had to create a game and make rules to play the game. This activity was great because they had to think about how to work in groups, make clear directions, and the importance of good rules. Here are some of their rule posters they made.
We used this to transition into a discussion of classroom rules. We made a list of possible rules and had them think of more ideas that night for homework. We ended the day reading
First Day Jitters
and talking about it.
The second day of school we talked about the rules and narrowed them down based on what they had in common. We chose the rules as a class. Here are the rules we decided on:
Be respectful to everyone and everything

Use words to compliment, support, and help

Always do your best

Be open to new ideas
We also followed up the activity with the marbles by doing a procedural/"how-to" writing yesterday. Each of my students chose a topic to write a how-to-writing.
Today we talked about discovering what we love to do. We read the book
When I Grow Up
by Weird Al Yankovic. It is a very cute story with great vocabulary about a boy with lots of imagination trying to think about what he wants to be.
We talked about how to think about what we want to be and learn to recognize our talents and strengths. We did some journal writing about what we love to do. We ended the discussion by building resumes. They used their experience as a student as their "work experience." We used the
ReadWriteThink Resume Generator
. We also worked some on organization this week, but I will blog about that in a separate post. What kinds of activities do you to have students think about who they are and what they might want to be? What kinds of activities do you have kids do to think about the importance of choosing good rules?